PACE PLUS Program
What is the PLUS Program?
The UC San Diego PACE PLUS Programs are an optional add-on to an existing and eligible PACE Core CME Program ("Core Program") designed to enhance the participant's experience in the Core Program with ongoing one-on-one support with expert faculty.
Why Enroll in a PLUS Program?
PLUS Programs are designed for those providers who may need extra support or have a history of problematic behaviors that haven't improved despite previous intervention(s). The goal of our PLUS Programs is to further amplify the learning and professional growth of its participants.
Which Core Programs are eligible for a PLUS Program?
Currently, two Core Programs are eligible for a PLUS Program add-on, Professional Boundaries and Managing High Impact Emotions. Please check back soon as we hope to offer this for more Core Programs in the future.
The Process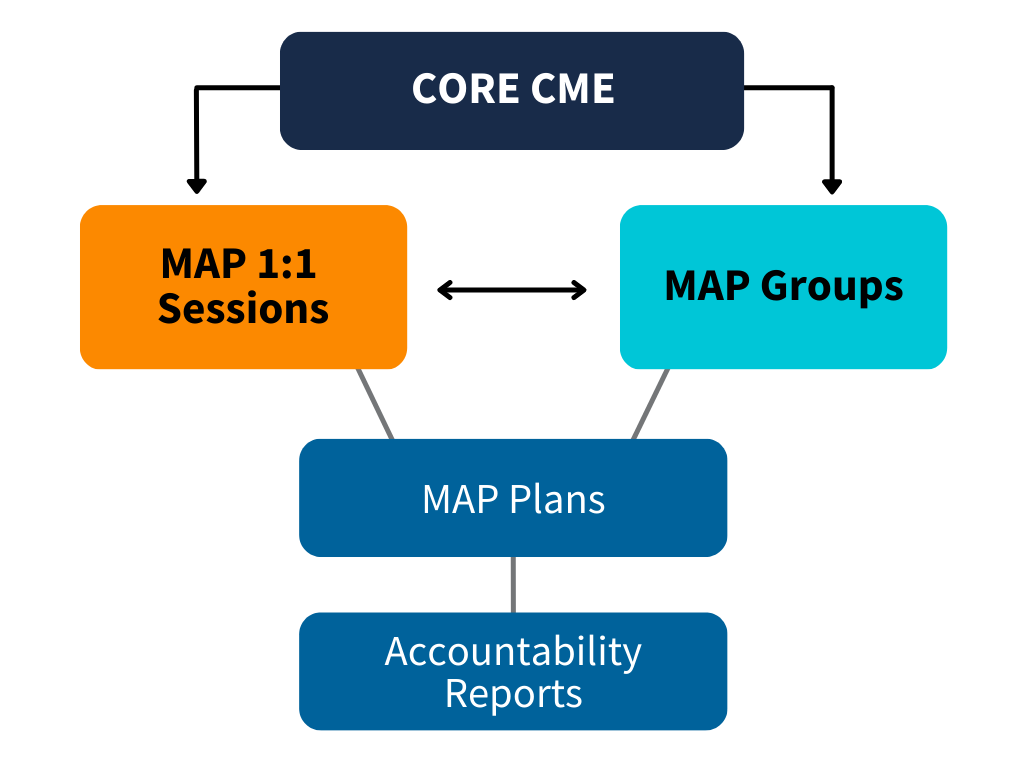 After an initial Discovery session designed to explore the current challenges and goals of the client, a customized Maintenance of Accountability and Professionalism (MAP) plan is co-created with PACE faculty to increase the likelihood of a participant's success in the Core Program.
Following the Discovery session, the participant engages in their Core Program (Managing High Impact Emotions or Professional Boundaries) and if applicable, specialized assessments are used to illuminate blind spots and enhance awareness.
After completing the Core Program, the participant engages in six one-on-one MAP sessions with selected PACE faculty over 6-8 weeks, which are designed to move the participant closer to their professional goals. Each session allows for specific opportunities to enhance awareness and hone the skills needed to navigate the work environment with maximum efficacy.
Confidentiality and Accountability
Confidentiality: No details are reported out beyond participatory information.
Accountability: Two narrative summaries are provided: Part 1 after the Core Program and Part 2 after full completion.
How to Apply
Submit CME application and select an eligible Core Program along with full payment for both the Core Program and PLUS Program. After the application and payment have been processed, PACE will contact the participant to schedule the Discovery Session. If the PACE faculty determines following the Discovery Session that the PLUS Program is not needed or not a good fit for the participant, they may be directed to only take a Core Program or to apply instead for a PACE Custom Program. In those cases, the participant would only be charged for the Discovery Session.
PLUS Program Cost
$5,000 (including $150 Discovery Session) + Core Program cost.
Can a participant sign up for the PLUS Program after commencing a Core Program?
Yes, provided that the participant enrolls in the PLUS Program within 90 days of completing the Core Program. To enroll in the PLUS Program, the participant must pay the $5,000 enrollment fee. After their payment has been received, the Discovery Session will be scheduled.