PACE PLUS Program
The PACE PLUS Program
Our CME courses are the first step in addressing behavioral concerns in physicians. After the remedial education in their CME course(s), participants can further enhance their learning by creating and implementing a Maintenance of Accountability and Professionalism (MAP) plan and coaching through the UC San Diego PACE PLUS Program.
PACE PLUS, an optional intensive, customized engagement, is designed to further support participants of the High Impact Emotions, Ethics, or Professional Boundaries courses. The PACE PLUS Program is offered as a one-on-one MAP coaching experience and/or through selected MAP Group coaching sessions.
After completing their core CME course(s), a PACE PLUS Program participant works with a MAP faculty member who supports them in developing increased awareness and implementing their MAP plans for ongoing professional development.
The PACE PLUS Process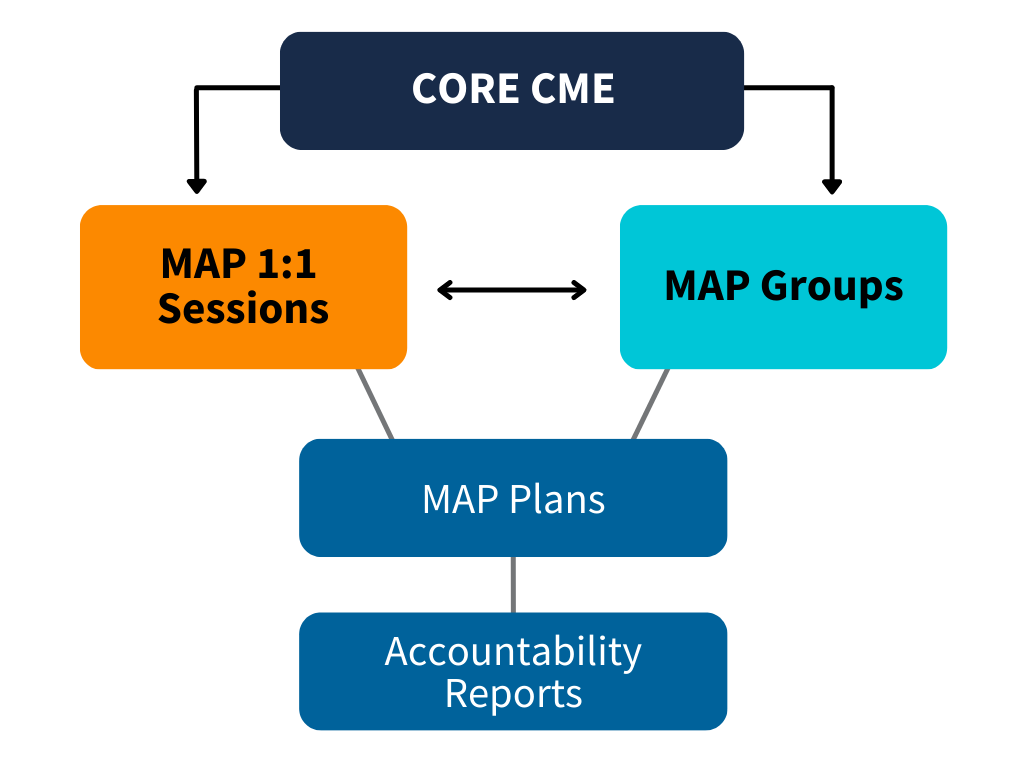 MAP Individual Coaching Sessions
The customized 4 to 6-month individual coaching program is built using data generated from a Discovery session, the core CME course(s), and selected professional development assessments. Individual coaching includes a total of 7 one-on-one sessions.
After completing their core program, a Discovery session is scheduled to further explore the participant's current challenges and goals, and a customized Maintenance of Accountability and Professionalism (MAP) plan is co-created with PACE faculty to increase the likelihood of success in implementing the concepts and skills learned in the core program.
At this stage, participants complete a comprehensive set of objective professional development assessments designed to identify their strengths, target areas for development, and help them define and implement relevant goals and action items. The generated data encourages insight and a higher level of functioning in the workplace. The specific assessments used in the PACE PLUS Program are exclusively used by instructors trained in the use of these tools.
After Discovery and Assessment, individual MAP coaching Sessions begin with an intensive session to craft a final MAP Plan co-created and fine-tuned with their MAP faculty member. This session integrates the qualitative data and experience generated from Discovery and the core CME course(s), along with the objective data generated from the professional development assessments, to fully examine the participant's strengths and opportunities in the context of their referral to PACE and self-described goals.
The Discovery and Intensive session are followed by five additional 1-hour individual MAP coaching sessions designed to support participants as they work on their plan and assure maximum accountability for professional growth.
Because no two participants are the same, each session is customized to support growth in their specific work environment and help them overcome their unique challenges.
After completing their individual coaching sessions, participants have the option to also attend MAP Group sessions at 6 and 12 months.
MAP Group Sessions
Maintenance of Accountability and Professionalism (MAP) Groups in the UC San Diego PACE PLUS Program are an excellent way to help participants stay on the right path after they complete their CME course(s).
These virtual seminars are structured to explore relevant themes related to the MAP Plans in a supportive faculty-led peer-based setting. The seminars extend learning, deepen awareness, and add additional layers of accountability. MAP Groups are typically available to physicians only, with availability to non-physicians only available on a highly selective basis.
Faculty-led MAP Groups are offered virtually multiple times throughout the day and evening, usually on the first Monday of the month (or a proximate Monday during national holidays).
Participants can select to attend MAP Groups monthly, quarterly, or bi-annually at 6 and 12 months after their CME course(s).
Participants are eligible to join MAP Groups within 6 months after completing their core UC San Diego PACE CME course(s).
NO ADDITIONAL COST for two sessions at 6 and 12 months (included in course cost)
$249 for 4 sessions (quarterly)
$599 for 12 sessions (monthly)
MAP Accountability Reports
As with all PACE programs, participants must fully engage in the experience. Two summary reports are generated for the participant and referrer (if relevant) during the program to document participation.
After completing the core CME course(s), an Interim Report summarizes the work to date, lays out the structure and expectations moving into the next phases, and documents whether the participant is on track.
A final Summary Report is provided after the PACE PLUS Program, documenting learning objectives, key milestones, adherence to the agreed dates and times to complete each aspect of the program, and satisfactory completion of the PACE PLUS Program.
Frequently Asked Questions
No, PACE PLUS is an optional follow-up component. Once a CME participant completes a CME course, they receive a certificate of completion. However, additional follow-up may be required by specific state medical boards or referring organizations. We also strongly recommend that CME participants consider enrolling in PACE PLUS to enhance their remediation and professional growth.
Through our many years of experience working with physicians and referring organizations, we have found that coaching is an essential element needed for profound change, and one that works.
Remedial CME is a great starting point, but it is hard to make behavioral change happen in just a few days. Follow-up and further coaching can optimize remediation. A physician who would like to continue their learning and growth or still has room for improvement after their core CME course(s), can greatly benefit from the coaching and accountability of the PACE PLUS Program.
MAP individual coaching costs $3,750. The MAP Group format is available at no additional cost for two sessions, $249 for four sessions, and $599 for twelve sessions. The PACE PLUS Program costs are in addition to the cost of core CME course(s), except for two group sessions which are included in the course cost.
Investing in a physician's learning through PACE PLUS can be vital for the organization the physician works for, as well as the individual physician.
When looking at the PACE PLUS options, we encourage you to consider what we call the "RPI" factors:
Responsibilities: How much responsibility does the physician have in the organization?
Pattern: What is the history of the physician's behavior?
Impact: How much does the physician's behavior impact the organization?
Additionally, a physician needing more intensive and individual support may find the individual coaching a better fit.
We encourage all participants of the High Impact Emotions, Ethics, and Professional Boundaries courses to consider enrolling in a PACE PLUS follow-up program. All core CME courses should be completed before PACE PLUS coaching begins.
For MAP Groups, participants of two of these CME courses, should enroll in at least quarterly MAP group sessions. Participants of all three CME courses should plan to enroll in monthly MAP group sessions. PACE PLUS participants will work on a MAP Plan that encompasses their knowledge and goals of all completed CME coursework, ensuring a comprehensive follow-up program.
After the core CME course(s), the PACE PLUS Program begins. Individual MAP sessions take place over 4 to 6 months, with individual coaching participants having the option to also attend MAP Group sessions at 6 and 12 months. MAP Group participants can select to attend MAP Groups monthly, quarterly, or bi-annually at 6 and 12 months after their CME course(s).
PACE PLUS is not a cookie-cutter approach. It is an intensive and customized program for participants who can benefit from individual and/or group coaching. Each faculty member works with participants to reach key objectives and milestones. PACE PLUS faculty are certified and highly qualified coaches with professional development and accountability expertise. Additionally, PACE PLUS faculty utilize powerful performance-enhancement assessment tools.
Each UC San Diego PACE PLUS faculty member is a certified coach trained to work with physicians in the PACE PLUS Program. The assessment data is only reviewed by trained and qualified faculty in each assessment tool.
Assessment data is only shared with the participant. The only information shared with a referring organization is participation. Please note that some State Medical Boards or referring organizations may have specific program requirements.
Yes, PACE PLUS is an online program, and all sessions are offered online. And just like our virtual CME courses, they are conducted live over Zoom and require active participation by each attendee.